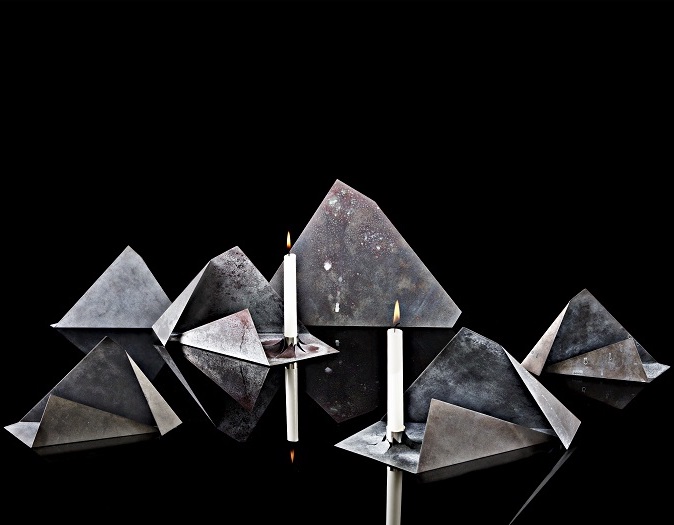 Helena Sandström, light installation, "But It's Melting, Mr.T…!", black glass, folded structures in etched zinc and candle holders in silver.
Photo: Niklas Palmklint. 
GROUP EXHIBITION
OCTOBER 31 – NOVEMBER 21, 2020
Galleri Sebastian Schildt proudly presents the group exhibition A Light in the Darkness which opens on All Saints' Day.
The exhibition features new works by twenty different artists who have interpreted the theme of light shining in the dark through various expressions in silver, glass, metal, ceramics and textile. The result is a unique collection of light-bearing art objects that emanate beauty and stimulate reflection.
With hopes for a brighter future, the gallery wishes to convey and share the light of these exquisite artworks in the exhibition.
Participating artists
Ingrid Bärndal, Maria Börjesson, Josefine Davidsson, Petronella Eriksson, Marie Fernström, Ulla Forsell, Aia Jüdes, Ann Karlholm, Caroline Lindholm, Olle Olls, Pernilla Sylwan, Ru Runeberg, Helena Sandström, Karlheinz Sauer, Sebastian Schildt, Jin-Sook So, Ulrika Swärd, David Taylor, Erik Tidäng and Kennet Williamsson.